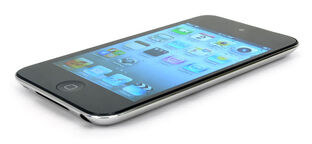 Virtual Synthesizers are programs of working synthesizers that are able to be operated on computers, iPods, iPads, Android Tablets, and more.
Information
Virtual Synthesizers come in various types of programs. Most programs can be found on the computer, and are available for download. Others can be found on the internet; these are strictly for online usage.
The App Store for Apple Technology holds a few programs with synthesizers. While very few record or save what you make, some manage to "Embed" or "Memorize" your patterns.
The Android Market is very similar to the Apple App Store, only having more free applications, as it is a free market.
While many Dubstep artists use real synthesizers, many also use virtual synthesizers to complete their albums. Artists such as Skrillex and DJ Ephixa use them.
The most common of the Virtual Synthesizers is the mass computer program FL Studio.