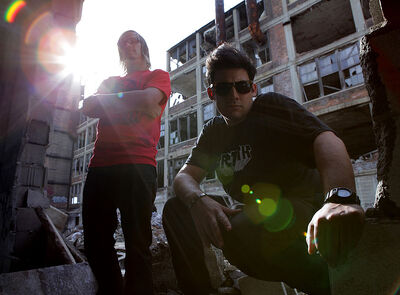 Truth
is a Dubstep duo named Tristan Roake and Andre Fernandez.

The theory that isolation breeds creativity has never been as apt as it is for Truth, a Dubstep outfit hailing from one of the world's most southern cities. What began as a musical experiment has now become something much more significant.
While based in New Zealand, Truth has toured extensively including two USA tours and three tours of the UK and Europe. They can be found regularly playing in New Zealand and Australia.
Artist Discovery
A chance encounter with dubstep visionary Mala late in 2007 inspired the New Zealand trio, who have been working together for years, to try their hand at a new sound – one comprising serious sub bass and snares so nasty they make eyes water. Within days of slipping Mala a handful of tunes made in as many days, Truth had been signed to its label Deep Media – widely regarded as one the most progressive in the scene, alongside a cluster of highly respected artists including Loefah, Kromestar, Silkie & Quest and Goth Trad. Truth's style defies categorization, encompassing an array of melodies and vocals within spacious beats that range from half-step stoppers like 'The Fatman' to deeper tunes like 'Stolen Children'. Julian Van Auden left the group in early 2011 and now performs under his solo name Gamble. Creative Commons Attribution-Share Alike License.
Discography
Album
2010 Puppets - Aquatic Lab BCD
2011 Puppets Special Edition - Aquatic Lab Lambda
Singles/ESP
2009 The Fatman/Stolen Children - Deep Medi Musik Medics
2009 No Grudge (with Alix Perez & Lynx) on "1984"- Shogun Audio
2009 Terror Planet/ Disappear - Aquatic Lab LAB
2009 Payback - Optimums Grime Recordings
2009 Truth Revelation/Lost at Sea (12 - Aquatic Lab LAB
2010 Time shift/Hackers - Bola
2010 Burglar/Dead Silence - Aquatic Lab LAB
2010 Truth & Dutty Ranks Bombay Sapphire/ Worlds Apart - Argon
2010 Truth - Juno/Under Current - Aquatic Lab
2010 Soundest - Optimums Grime Recordings
2010 Amnesia/International - Deep Medi Musik Medi
2010 Stranger Than Fiction EP (Bub Ho Step/Wednesday/Stay/The Future) - Disfigured Dub
2010 Perfect Combination - self-released free download
2011 The Fatman VIP/Dreams Can Never Come True - Deep Medi Musik
2011 Losing You (with Dutty Ranks) - Abyss
2011 Feel (with Silkie) on "City Limits Vol.2" - Deep Medi Musik
Ad blocker interference detected!
Wikia is a free-to-use site that makes money from advertising. We have a modified experience for viewers using ad blockers

Wikia is not accessible if you've made further modifications. Remove the custom ad blocker rule(s) and the page will load as expected.