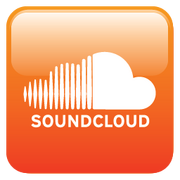 | | | |
| --- | --- | --- |
| " | Everyone has sounds to share. Now you can share yours | " |
Capture a voice, moment or music in seconds or upload audio you've already created.
SoundCloud is an online audio distribution platform which allows collaboration, promotion and distribution of audio recordings.
History
SoundCloud was originally started in Stockholm, Sweden, but was established in Berlin, Germany in August, 2007 by sound designer Alex Ljung and artist Eric Wahlforss. It had the intention of allowing musicians to share recordings with each other, but later transformed into a full publishing tool which also allowed musicians to distribute their music tracks. A few months after it began operating, SoundCloud began to challenge the dominance of MySpace as a platform for musicians to distribute their music by allowing recording artists to interact more flexibly with their fans. In April 2009, SoundCloud received €2.5 million funding from Doughty Hanson Technology Ventures. By May 2010, SoundCloud announced it had one million subscribers. In January 2011, it was confirmed that SoundCloud had raised a $10 million Series B funding round from Union Square Ventures and Index Ventures.
On June 15, 2011, SoundCloud announced they had 5 million registered users, and investments from Ashton Kutcher and Guy Oseary's A-Grade Fund. On January 23, 2012, SoundCloud announced on their blog that they had 10 million registered users. A story wheel was created for the occasion, which can be found on the SoundCloud blog.
Paid subscription features
SoundCloud offers additional features to users with paid subscriptions. Such users are given more hosting space and may distribute their tracks or recordings to more groups and users, create sets of recordings, and more thoroughly track the statistics for each of their tracks. Additional statistic data are unlocked depending on which subscription the user has chosen, including the number of listens per track per user and the originating country of individual listens.