SKisM
General Information
Real Name
Tom Petais
Occupation(s)
DJ
Years Active
2009
Social Links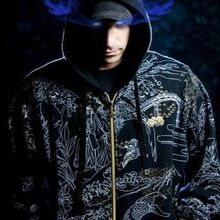 Tom Petais, Mostly known as SKimS, is an British Dubstep artist.
Since appearing on the Dubstep scene in 2009, SKisM has gone from strength to strength and has established himself as a major player in the global electric music scene.
Biography
Known amongst his peers as the 'DJs DJ', SKisM's has gained notoriety as one of the busiest and most electrifying mixers on the circuit, and having toured Australia, New Zealand, South Africa, Europe, America and more - the word is spreading like wildfire.
Production wise, SKisM has worked with, and remixed, some of the biggest names in the business with his music racking up over 6 million views on Youtube. His collaboration with Canada's Excision ('sEXisM') was one the top selling tracks on his Mau5trap Album and was featured in the trailer for blockbuster movie 'Act of Valor'. He topped the chart with Flux Pavilion & Foreign Beggars on 'Jump Back', with a further Beatport number one with 'Like This' featuring Virus Syndicate. He was also featured on the first ever release on Skrillex's OWSLA imprint with his reworking of Porter Robinson's 'The State'.
Label
As co-owner and A&R of one of the most prolific labels in electronic music today, Never Say Die Records, SKisM has had a hand in bringing some of the freshest music to the masses, constantly championing the sounds of the acts on the label such as Zomboy, Dodge & Fuski, 501 & Eptic.
Discography
Singles/EPs
Rise Of The Idiots/Back off EP -2009
The Blank EP -2009
Down With The Kids EP (Never Say Die Records) -2010
Foreign Beggars, Get A Bit More (SKisM Remix) (Never Say Die Records) -2010
Down With The Kids: Remixed (Never Say Die Records) -2012
Elixir Remixes (Never Say Die Records) -2012
Far Too Loud, 600 Years (SKisM Remix) (Never Say Die Records) -2012
SKisM and Flux Pavilion, Jump Back (Circus Records) -2012
The Division EP (Never Say Die Records) -2013
Zomboy, Raptor (SKisM and [[LAXX] Remix) -2014
SKisM and LAXX, Hostile (Never Say Die Black Label) -2015
Ad blocker interference detected!
Wikia is a free-to-use site that makes money from advertising. We have a modified experience for viewers using ad blockers

Wikia is not accessible if you've made further modifications. Remove the custom ad blocker rule(s) and the page will load as expected.