Rage Valley
is the second EP by the Australian dubstep duo
Knife Party
.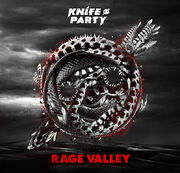 It was released May 27 2012 on
Beatport
and on June 3 2012 on iTunes. Originally Rage Valley was set to be released before the end of April, but due to multiple setbacks the release was delayed for four weeks.
Track Listing:
"Rage Valley"
"Centipede"
"Bonfire"
"Sleaze (feat. MistaJam)"
Trivia
The title track "Rage Valley" was initially titled "Fuck Em", but was changed due to "secret shady" reasons.
There is also an unreleased VIP mix of "Rage Valley" that can be found online.