Hailing from a small town in Belgium, Netsky is one of the most promising upcoming producers of the moment.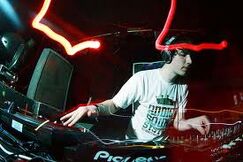 In the last 4 years involved in music production, he realised that he likes his drum & bass deep and soulful. He is trying to ballance the deepness and musicality of his sound with big enough beats and bass to keep the dancefloor alive. With a number of 12"s on Hype's Liqweed Ganja and Twisted Individual's Allsorts in the pipeline, he is definately one to keep an eye on.

Influences: Mutated Forms, Artificial Intelligence, Nu:Tone, KG, London Elektricity, Brookes Brothers, Random Movement, Redeyes, LTJ Bukem, Lenzman, High Contrast, Electrosoul System, Influx UK, Q-project, Makoto, Baron, dj die, Calibre, Zero T, Chase & Status and Camo and Krooked.
Tracks by Netsky.