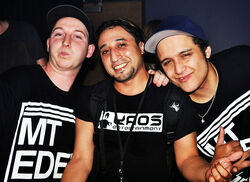 Mt Eden (also known as Mt Eden and formerly named Mt Eden Dubstep) are a dubstep production duo from New Zealand consisting of Jesse Cooper and Harley Rayner.  Their most well-known songs are their original "Sierra Leone"(a remix of Lil Wayne's" I'd Like "[3]), their remix of Delerium's" Silence "and Lisa Miskovsky's" Still Alive "which is currently their most viewed song on YouTube with more than 40 million views combined,  however, previous uploads of "Sierra Leone" have reached over 29 million views before being removed. 
They started gaining popularity when their remix of Lil Wayne's "I'd Like"  "Sierra Leone", went viral on YouTube in 2009  They currently have 100 million combined video views and over 160 thousand subscribers on their YouTube channel, as well as more than 310,000 "likes" on their Facebook page. 
Mt Eden is currently signed with Ultra Music for a multi-album record deal. 
Ad blocker interference detected!
Wikia is a free-to-use site that makes money from advertising. We have a modified experience for viewers using ad blockers

Wikia is not accessible if you've made further modifications. Remove the custom ad blocker rule(s) and the page will load as expected.