Ryan Raddon, better known by his stage name Kaskade, is an American Dubstep DJ and record producer. On October 20, 2011, DJ Magazine announced the results of their annual Top 100 DJ Poll, with Ultra Records, Kaskade placed at #30. On September 9, 2011, a DJ Times poll voted Kaskade "America's Best DJ 2011". Raddon is fluent in Japanese, and is married to Naomi Raddon.
Early Life
Kaskade was born in Evanston, Illinois on February the 25th, 1971. He grew up in nearby Northbrook and attended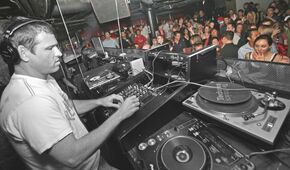 Glenbrook North High School. He attended Brigham Young University in Provo, UT from 1989 to 1990 honing his DJ skills in his dorm room. At age 19, Raddon served a two year full-time mission for The Church of Jesus Christ of Latter-day Saints in Japan. Following his mission, in 1992, he moved to Salt Lake City to attend the University of Utah. During this time he owned and operated a local record store, Mechanized Records. In May 2000, Kaskade moved to San Francisco and began working as an A&R assistant for Om Records.
Ad blocker interference detected!
Wikia is a free-to-use site that makes money from advertising. We have a modified experience for viewers using ad blockers

Wikia is not accessible if you've made further modifications. Remove the custom ad blocker rule(s) and the page will load as expected.