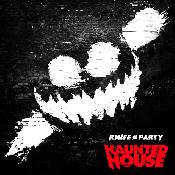 Haunted House is the third EP the Australian dubstep duo, Knife Party. It was released on May 6 2013 on iTunes and Beatport, and is available as a free download on their website.
Track Listing
Power Glove
LRAD
EDM Death Machine
Internet Friends (VIP)
Trivia
This EP was going to feature the track "Baghdad", but this song was later scrapped and replaced with Internet Friends VIP. Demos and live rips of Baghdad can be found relatively easily online.