Joshua Steele, known professionally as Flux Pavilion, is an English dubstep producer and DJ. He is the co-founder of Circus Records, along with Doctor P and DJ Swan-E.
He is best known for his 2011 single "Bass Cannon", which peaked at number 56 on the UK Singles Chart, and was placed on the Radio 1 A-List. Along with Doctor P, Flux Pavilion presented the 2011 compilation album Circus One, to which he contributed four tracks. In August 2011 his track "I Can't Stop" was sampled by producer Shama "Sak Pase" Joseph for hip-hop album,
Watch the Throne by Jay-Z and Kanye West. On December 5th, 2011, the BBC announced that he had been nominated for the BBC's Sound of 2012 poll. On March 5th, 2012, "I Can't Stop" was used in the viral "KONY 2012" campaign, therefore receiving a large new fan base.
Flux Pavilion's debut single "Daydreamer" featuring Example received it's first airplay on Huw Stephens Radio 1 show on 6 March 2012 and is due to be released in April.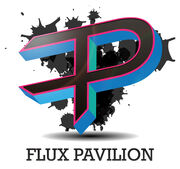 Single
Year
Peak chart positions
Album
UK

[3]

UKDAN

[6]

UKIND

[7]

"Bass Cannon"
2011
56
9
5
TBA
"Superbad" (with Doctor P)
61
7
—
"Daydreamer" (featuring Example)
2012
—
—
—
Other releases
Single
Year
"Cheap Crisps" / "How Dare You"
2008
"F*cking Noise" / "Digital Controller"
2009
"Crunch" / (with Datsik)
"Family Fortunes" / "Steppa" (with Trolley Snatcha)
"Voscillate" / "Night Goes On"
2010
"Meathead" / "Bass Abuse"
2011
"How Rude" / "Show Off"
"Jump Back" (with SKisM, ft. Foreign Beggars)
Extended plays
| Title | EP details |
| --- | --- |
| Boom | Released: 15 January 2009[8] |
| Lines in Wax | Released: 11 October 2010[9] |
As producer
| Single | Year | Artist | Album |
| --- | --- | --- | --- |
| "Level Up" | 2012 | Sway | The Deliverance |
Remixes