Emalkay
, also known by his real name Martin Knowles, is an English Dubstep Producer hailing from Birmingham, England, UK. He is best known for his 2009 single "When I Look At You", which recieved much critical acclaim, the magazine 
Clash
described it as "a monster".
Artist Information
Emalkay, whose real name is Martin Knowles, is from Birmingham England.  He has been active in producing since 2005. Knowles started by dabbling in Grime and Garage Dub, and released experimental songs early on his Morphic Sounds label. He soon signed to Dub Police, and has fit in very well. His debut single for the Dub Police Label, Explicit (With Heroes on the B-side), along with his later single When I Look At You, served to propel Emalkay Towards the forefront on the UK Dubstep scene. While he was not been as active in producing record hits, Emalkay is doing frequent touring and live performances in Dub Police nights at the famous Fabric club in London.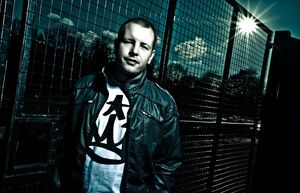 Music/Production Style
Staying true to his roots as a Grime and Garage dub producer, Emalkay's unique sound is very bass-heavy and hard hitting, much like traditional UK dubstep. Much of his mid-bass sound is "dirty" or distorted (showing his grime roots) and his massive, sound-system-thumping deep bass lines rock speakers around the world. In contrast to American-style dubstep, which is heavily influenced by the Electronic Dance genres such as Progressive-House and external genres like heavy-rock, Emalkay's repetitive and minmalist synthesizers and treble sounds give him an almost haunting feel.