Doctor P
is the
stage name
of the
English
dubstep
producer
and
DJ
,
Shaun Brockhurst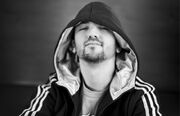 (born 9 April 1986). Shaun has also produced
drum and bass
under the aliases
Sounds Destructive
(with Zachary Kemp, currently known as Trolley Snatcha),
Slum Dogz
(with DJ Swan-E and Krafty MC) and
DJ Picto
(or simply
Picto
). Some of his songs, including "Sweet Shop", "Tetris", "Big Boss", "Watch Out" and the remixes of Example's "
Last Ones Standing
" and Plan B's "
Love Goes Down
" have all received more than 2 million views on
YouTube
.
[1]
He is the co-founder of Circus Records, along with
Flux Pavilion
, DJ Swan-E and
Earl Falconer
.
[1]
In an interview, Doctor P stated that the "P" in his name stands for Picto, which is the alias he used when he produced drum & bass. Picto was a nickname his friends gave him.[2]
In a February 2013 interview, Doctor P said that a Method Man collaboration would be coming on the next release (which came to be a collaboration with Adam F called "The Pit", released 28 October 2013), as well as a track with Eva Simons.[3]
Contents
Discography
Releases
"Air Raid" (with Flux Pavilion) [Circus, 21 September 2009]
"Rasputins Gold" [Circus, 30 November 2009]
"Sweet Shop" / "Gargoyle" [Circus, 4 February 2010]
"Stinkfinger" (with Flux Pavilion) [XS Dubz, June 2010]
"Badman Sound" [Dub Police, 28 June 2010]
"Vampire Dub" [Circus, 9 August 2010]
"Sweet Shop" (Come Follow Me Mix) (Doctor P vs. P Money) [Circus, 23 August 2010]
"Sweet Shop" (Flux Pavilion Remix) [Circus, 23 August 2010]
"Sweet Shop" (Friction vs. Camo & Krooked DnB Mix) [Circus, 4 October 2010]
"Big Boss" / "Black Books (featuring RSK)" [Circus, 8 November 2010]
"Watch Out" [Circus, 2011]
Circus One (presented by Doctor P & Flux Pavilion) [Circus / UKF, 1 May 2011]
"Tetris" [Circus, 13 June 2011] (UK chart peak: #185)[4]
"Music Is Dead" (with Dillon Francis) [Circus, 11 June 2012]
"Galaxies & Stars" (featuring Ce'Cile) [Circus / Big Beat, 2012]
"Bulletproof" (featuring Eva Simons) [Circus / Big Beat, 2012]
Animal Vegetable Mineral - Part 1 [Circus / Big Beat / Warner Music, 30 August 2012]
"The Champagne Böp" [Circus / Big Beat, 24 June 2013]
"The Pit" (with Adam F featuring Method Man) [Circus, 28 October 2013]
"Shishkabob" [Free Download via Mixmag, 3 December 2013]
Remixes
References