DZ (stylized as "dZ") is a dubstep artist.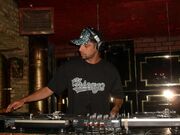 Biography
Taken from his last.fm profile

DZ is a Dubstep producer who remixed tracks for The Crookers, Wu-tang Clan, Major Lazer and Gucci Mane and released his first full length LP "The Proliferation Sequence". Best known for his original tracks "Old Timers" and "Down".
The Prolific DZ is one of the influential figures of Dubstep in North America,which is reflected by his extensive back catalogue & the diversity found within it. A veteran of the 1's & 2's for a little over 15 years, his musical roots lie deep in dubwise and Hip Hop, with many influences heard throughout his productions over the years. After a string of well received vinyl releases on a number of respected labels at the end of the last decade, DZ started up his own imprint (Badman Press / Badman Digital) to release not just his own material, but other talented artists as well. DZ has done remix work for Diplo, Crookers, Wu-Tang Clan, Gucci Mane, Boltan, Major Lazer & Virus Syndicate (to name a handful), but these days he is focusing on original productions for Badman Digital.